New Online Course!
OEDI is pleased to announce a new course, Leading in Times of Crisis.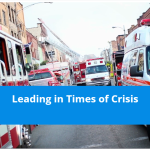 This course has been intentionally designed and wholly integrated, which means activities and lessons from one module will be leveraged for use in the next module. The intent is to enable participants engaged in this course to understand how to become a better leader. Participants will find the content to be grounded in management and leadership practices as well as other discipline theories from social sciences, behavioral psychology, economics, and human resources. Just like the content itself, coming from a variety of disciplines, it will be delivered through a variety of learning modes including reading activities, videos, personal reflection exercises, self-assessments, quizzes, and more.
Go to our online learning portal to see the new course.
Fee Structure Changes Effective February 1
To our valued OEDI constituents:
One of our goals has been to keep our training and membership affordable for everyone. And for the last 5 years, we have not had to raise our fees. However, due to increased costs in nearly everything that impacts our services, you will see a moderate increase effective February 1, 2023. We will continue to provide the highest quality training with updates to current courses and several new course offerings in 2023.
Thank you for your support of OEDI as we continue our mission of providing excellence through education.
Alan J. Scharn
Executive Director
Oregon Executive Development Institute (OEDI)
503-851-1611
ascharn@oedionline.org